Basic Information
This section will have basic information about the teachers at the center.

For example:

There are 2 teachers on staff. 1 myself and 1 Jonathan who has been with me since the begining. Jonathan is here part time.



Staff Credentials

In this section we will describe the credentials of the staff members and their training.

For example:

Jonathan and myself have taken all the same class in the past 3 years. Befor that I also took some other class. (Will be posted later)

Staff Training

Once hired, each care giver must complete twenty-two hours of training in child development each year. In addition, all staff are CPR and First-Aid trained.






Our Teachers
We will put pictures of all the teachers in this column.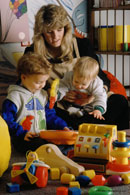 Joan, the toddler teacher